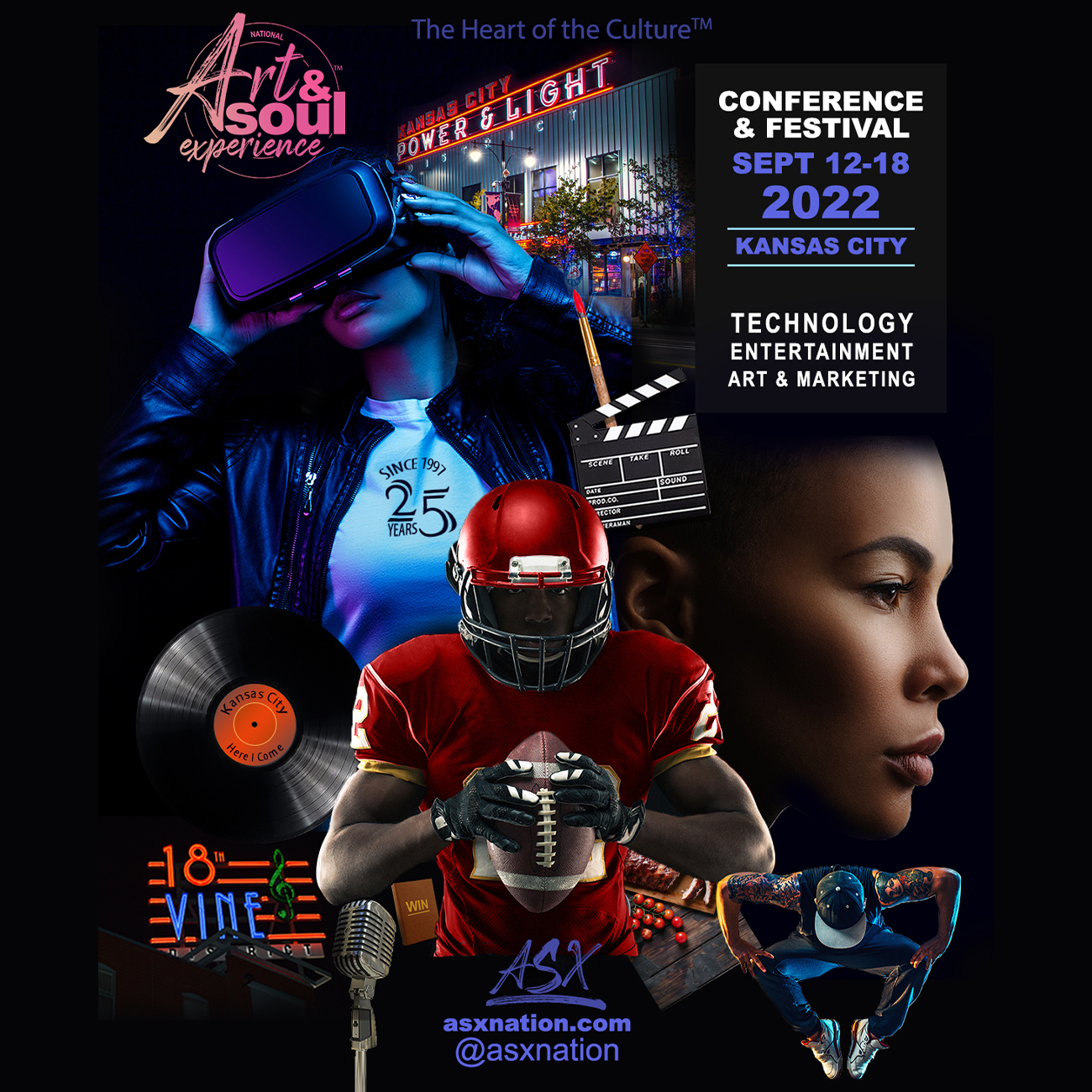 ASX Fest 2022
September 2022, Kansas City will welcome the nation's finest professionals, students, and tourists to town for an arts and technology experience like no other.  It's the National Art & Soul Experience (ASX) Festival(TM). It offers a weeklong celebration of arts and technology.  Concerts, film fests, art exhibition and even an education conference are just a few of the activities that will be a part of the experience.  REGISTER HERE for the conference. Kansas City is a prime location for such an experience, starting with the location.  It's central to America, known as the heart of the nation.
Beyond the location, KC is truly a contemporary and historic influencer in arts and entertainment.  After all, this is where Walt Disney started his professional career.  It's the headquarters of Hallmark, the nation's leading arts producer.  Well beyond their card line they own institutions ranging from Crayola to Crown Media, their film, TV and book publishing division.  This also where AMC started, the nation's largest theater chain and the pioneer of the multiplex, where multiple screens are housed under one building.
Beyond the company, it's the individuals that call this city home that make this exciting.  There's a range of superstars from 4-Time Grammy Award winning producer, Brian Kennedy, who has produced hits for mega stars ranging from R&B and Pop's Rhianna to country music's Rascal Flatts.  The same success can be found in TV and film with rising star director Morgan Cooper, who now works with Hollywood royalty, Will Smith, after signing an unheard of two-season deal with NBCUniversal's Peacock TV channel for his "Bel-Air" series."  Of course, Kansas City's historic influencers are just as impressive.  According to festival creative director, Ken Lumpkins, "Big Joe Turner deserves special recognition.  Though he was known as a blue singer or shouter, he was one of the pioneers of Rock and Roll.  With this type of resume, it's no wonder why our tagline for the ASX is "The Heart of the Culture.  So much comes from the city that impacts the world."
The ASX Fest was created by national board of volunteers for the arts, Art & Soul.  Art & Soul, Inc. a 501 (c)(3) nonprofit, was founded in 1997 to support talent and entertainment initiatives—connecting KC to opportunities worldwide.  The fest is presented by the Black Archives of Mid-America, a 501(c)(3) nonprofit along with production support by the agency, Blue Symphony LLC.
The ASX Fest is supported by local and international powerhouses.  A few include: The BrandLab, Barkley & Evergreen, Intouch Group, VMLY&R, Kansas City Parks & Recreation, UMKC's Office of Multicultural Student Affairs and The African-American Student Union, MOBE (Marketing Opportunities in Business & Entertainment), VisitKC, the KC Film Office, OHUB, Keystone Innovation District in addition to government officials.
To get involved, contact: connect@asxnation.com.  For updates, stay tuned to the website and Facebook social media @asxnation.
Interested in being one of our expert presenters? Submit now at Call For Workshops.